Casual Decorating Style

what it is and how to achieve the look

If you love a casual decorating style you're in good company! My philosophy is that styles of home decor fall into four basic categories…

…with the Casual label heading the list. There are many interpretations that flow from this uncomplicated look, from Shabby Chic to Cottage, Country to Coastal, as shown in the image above, and many more.

What defines a Casual Decor? The lack of 'rules' when it comes to decorating is what makes this style so appealing to so many.
And, if you are searching for affordable home decorating ideas (who isn't?), this unpretentious style of decor may be the perfect solution for you!
---
Some of those descriptive words may be more applicable than others, but you get the idea. A Casually styled home may be carefully thought out and put together, but never gives the appearance of being contrived, formal, matchy-matchy (my own term, which I really like) or stuffy.
Some of the casual room design ideas and home decorating styles that I would place in this style category are: (click on any style name below to see more detail about it)

---
Create the Casual Look

1. Color, Texture & Pattern Set the Tone in a
Casual Decorating Style

Like any other project or decision, it helps tremendously to have a plan of action before making decisions that cost both time and money. Home decorating is no different. Your plan to create a Casually styled space should begin with the color palette:
What colors will I use?
Where will I put them?
The wonderful truth about a casual home decor is that the color palette decision has no limits. Having said that, you'll probably find softer shades more often than bright and bold, but, the choice is yours. 
Shades of Blue, Green, Yellow, Rose, Lavender, and the many moods of white are always a good choice. Neutrals abound in a casually styled home and are a solid foundation for building and accenting the rest of the space.
If your room is spacious and you want a bolder look, put deeper shades on the walls. For a softer overall appearance, keep the walls and floors neutral and put color/pattern/texture on the fabrics and finishes.
Let's use the kitchen shown below as an example.
2. Floor Selections in Casual Decorating STyle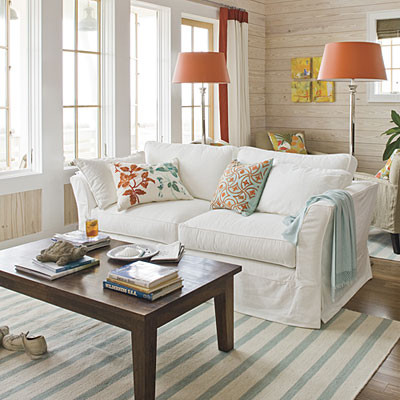 Flooring choices with casual decor can be a simple and straightforward as painting the concrete (yes, really), using pine planking (it's soft so you have to enjoy the distressed look it will inevitably acquire), wood-like laminate flooring, tile or carpet. You choose.
Your lifestyle, budget and use of the space makes a big difference, of course, but the style thought is always the same…simple, uncomplicated, easy living…that is the essence of casual room design.
Wood or wood-like laminate flooring creates a warmth in a space that is always appropriate with casual decor. Notice the wood finishes on the floors in the photos on this page. Light or darker, a warm foundation is always a winner.
If carpet is your choice, stay with solids, tight weaves or lightly textured choices.
Tile can work well in a casual style home, particularly with the use of area rugs. They can help to define a space, add color and interest, and add warmth to a floor that could appear cold and stark.
Area rugs are an affordable home decorating choice, can be both functional and serve a style purpose, so consider how a rug can enhance your decor. They can be easily changed and moved, so you're always able to create a fresh look, too, without breaking the budget.
Layering of area and accent rugs is also a popular option...I layered an area rug over carpet in my living room and am quite pleased with the result - see image to the right.

3. What to do with the Walls in Casual Style Decorating

Walls are fun! I love to put color on them, introduce texture, see interesting trim and baseboard molding, get pretty excited about beaded board...I know, I need to get out more!
Seriously, adding color of any depth or shade to a space can bring a huge change in mood, depending on what is selected. In a casually styled home the mood will be informal, perhaps cozy, welcoming, not contrived or overly 'done'.
If you love the idea of crown molding, that's fine. Just keep it simply stacked, and not overly layered or formal.
What I love the most about using color on walls is that it is an inexpensive and affordable home decorating choice for any style of home!
The bathroom above is a good example of the crown molding I am speaking of...it is there to finish off the space but is simple enough to fit in well with the style.
The tiniest pop of magenta in the florals is awesome.
In this example the walls provide the quiet, simple but elegant backdrop for the rest of the decor.
One more thought about wall color and styling.
Take a moment to look at the first two photos on this page and you'll get a vivid example of how the use of paint color and trim (or not) can make a significant difference in the feel of a space. Natural light also plays an important role.
Here are the photos again to make it easier for you to compare them:
Note how the entire background of the coastal inspired room on the left is white. Everything. Ceiling, trim and walls. Nothing jumps out at you except the fabric colors and textures, and the flooring. I would guess that there are plenty of windows in this room, and no coverings to minimize the lighting.
Now study the image on the right…what a difference in the look and feel of the updated country style space! We are again looking at a casual space, but with warm wood floors, deep green walls and white painted trim, a mix of antiques in the furnishings to add more warmth.
Two very different approaches to wall color, with two very different results. Both are a beautiful interpretation of Casual Decorating Style.
Here is a different approach to wall color…lots of it! If you love to see happy colors throughout your day, go for the bolder choices. I love the way this color not only provides the backdrop for the 'fruity' themed artwork, it is an appropriately peachy shade that fits right into the theme!
Return to top of Page
4. Furniture Selection in Casual Decorating Styles

Furnishing a home that is a casual decorating style is where things get really interesting! There is a lot of room for interpretation here as well as an appeal for every budget, even the smallest wallet.
There are two decisions to make with furniture selection:
What interpretation of casual decorating style fits me and my lifestyle?
What is my budget? For example, am I going to scour the flea markets/consignment shops/garage sales out of necessity or because that is where I will find the items that I truly want to use in furnishing my home.
Your casually styled home may include natural wood finishes, painted finishes, wicker, bamboo, iron…a mix is perfectly fine, as this is not the formal look of some other types of interior decorating where every detail is painstakingly determined and coordinated.
Upholstered pieces have an overall relaxed appearance, that 'come on in and sit on me' appeal.
 Examples of upholstery include:
Slip covered sofas and chairs
Exposed legs that are turned, curved or straight can fit right in
Skirted bottoms on the sofa and or chair are okay, as is a gently curved arm
Loose pillow cushions or fitted, as long as the overall look is comfortable
The sofa shown below has a straight arm, but the pillows are loose and informal, and the throw pillows/afghan complete the Casual Transitional look.
5. Accessories, Window Treatments & Wall Decor

We have talked about color, floors, walls and furnishings. Now come the finishing touches that truly make your home unique. It is your expression of accessories, wall decor and accent pieces in casual decorating style that bring a space to life.
With many casual styles of decorating, collections are very often displayed, sometimes in abundance. It might be wall decor, artwork, a shelving display, or scattered throughout the space in small groupings.
Or, you might prefer a lighter touch with the accents, and that is perfectly fine as well, with just a couple of special accents that are near and dear to your heart.
Remember the synonyms for 'casual' at the beginning of this article? This is where you can take liberties and find 'fluky' and 'unexpected' accents to make your own style statement.
It depends on your preferences, and which road you want to travel in the world of casual decor. If you tend to be a little more conservative, your finishing touches will probably reflect that.
First, take a look at the photos on this page to get some great room decorating ideas for wall decor, window treatments and accents.
Casual Decorating Styles to Study:
What is Your Preference?

Let's look at four distinctly different, casually styled living areas…you can learn so much from photos about what draws you to a particular space, or not so much.
I always tell my design clients that seeing  the no's will help you make a more confident decision about the yes's
Be sure to study:
The furniture – upholstered pieces & accent pieces

The color palette – walls, floors, furnishings & accents – where is color used the most?


The amount of pieces in the space itself – is the room visually open?

The floors – wood, carpet, tile, rugs?
In fact, you can do the same with every image on this page. Take a few notes and you might be surprised at how much you learn about your casual decorating styles likes and those that are not so much.
Casual Decorating Style...put it all together!

Okay, let's take all of the components of creating a Casual Decorating Style and see them in action, keeping in mind the quick and affordable home decorating ideas that are such a part of this approach to designing a space.
I love the image shown above. I know, it's kind of a girly look, but the shades, fabrics, patterns, furnishings, accessories…everything blends well yet retains it's own unique personality. What do you see first in this photo? I immediately notice the sofa and accent pillows, and then the red flowers in pots next to the sofa and in the windowsill.
Color palette is neutral with one accent color: white, tan/taupe, soft rosy pink and red
Floors are neutral with a nubby textured rug to define the conversation area.
The soft, soft shade of rosy pink on the walls sets the feminine tone for the room; trim is white
Furniture is comfy and casual, with graceful legs on the white finished case goods and clean lines on the sofa. Every piece is well scaled to the space. Notice the variety of finishes and shapes.
Window treatments are a type of roman shade, but the fabric selection gives them a softness that is consistent with the room's Casual styling.
I really like the height of the shelf displaying the plate collection; it allows for the photographs to be displayed along with some other accessories on the console table without the area feeling too busy.
Baskets on the floor near the fire place and under the coffee table add color and texture so the room doesn't get that washed out look.
Of course, the accent pillows on the sofa as well as the colorful flowers bring a pop to the space.
Return to top of Page